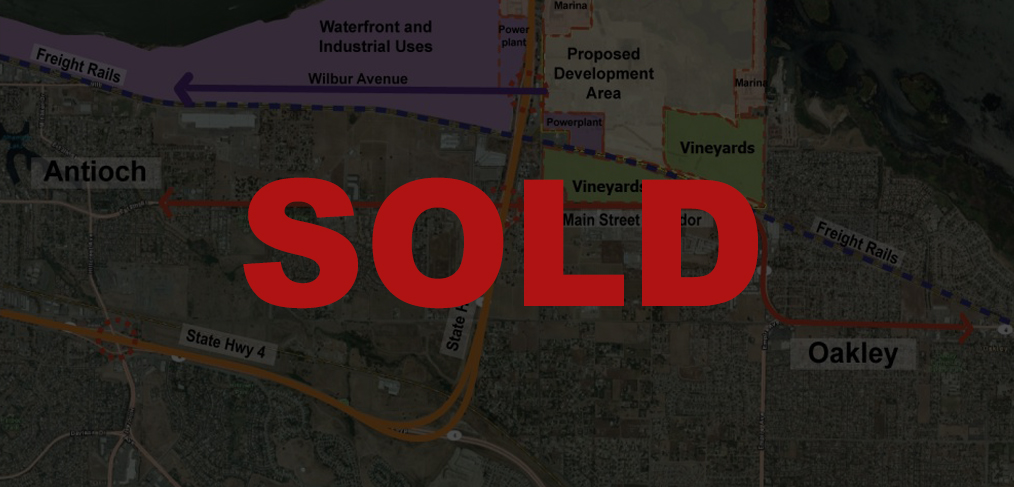 Oakley, CA
348 total acres
~150 developable acres
Growing East Bay region
Excellent highway access
Significant available infrastructure
Opportunity
The property owner seeks one or more developers or end users interested in the acquisition this unique property located in Oakley, CA. As one of the largest available properties in Contra Costa County, the redevelopment of this property is important to the local community and the larger region. Further information can be found by visiting http://bigbreakoakley.com. A fact sheet for the property can be downloaded here.
Property Facts
Address: 6000 Bridgehead Road, Oakley, CA
Total Acreage: 348 total acres; up to 150 developable
Tax Parcels: Multiple tax parcels
Current Zoning: Pending specific plan
Status: Former manufacturing site
Location & Access
Region: California's East Bay
Neighborhood: Surrounded by power generation, industrial, commercial recreational, marina, and agricultural land uses
Site Access: Frontage on Bridgehead Road and entrance at Wilbur Street intersection; easy access off State Route 160 and a connection to newly widened SR 4
Rail Access: Burlington Northern Santa Fe line with rail spurs serving the site
Water Access: Deep water access to the San Joaquin River nearby
Property Assets
This property provides significant industrial access and infrastructure that may be of interest to future users.
Electricity
Natural gas
Fiber optic lines along Bridgehead Road
Diablo Water District
Ironhouse Sanitary District
Available Property
A site analysis has identified up to 150 total acres available for redevelopment. An additional 175 acres are designated as East Bay Delta wetlands, a unique natural resource and attraction in the East Bay region.
Environmental Status
This former manufacturing property has been dismantled and a majority of the buildings have been removed to foundation level. The current owner has embarked on a multiphase remediation program under the guidance of the California Department of Toxic Substances Control. Several parcels are immediately available for redevelopment and the remainder will become available in phases. The owner seeks to integrate remediation and redevelopment to promote future land use.